As an Amazon Associate I earn from qualifying purchases.
Welcome to #TheWeekendSocial – a Recipe and DIY link party and blog hop! EVERY link added (which follows the rules, of course) is pinned to our Weekend Social Pinterest board. Thank you to everyone who stopped by last week and linked up with us!! We LOVE to see the number of participants growing each week. Stop in and click on some of the links. As you know, most viewed recipe earns a weekly spotlight so promote your link and let's get you earning top clicks!
Interact with your fellow guests, drop by their blog and let them know that you noticed their recipe at our party! Everyone loves it when they are recognized and appreciated for the hard work and dedication they put into their blog posts, photos and recipes!
Please see our Party Etiquette for exclusions (ie: ROUND-UPS, OTHER LINK PARTIES, SALES & PROMOTIONS) before linking to the party. Have a great time and we hope to see you next week. Get out there and get linking!
Meet Your Co-Hosts~~
Grab a badge!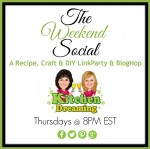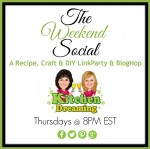 Last week's Most Viewed Recipe:
Indian Shortbread
easyfoodsmith.com
My Pick From Last Week:
Beef Stew Homage
thekitchenchopper.com